The cremation rate in the United States is now at 55% nationally [CANA], with some areas experiencing much higher cremation rates, and some areas such as Texas experiencing exponential growth in the cremation rate year-on-year. The increased cremation rate means that more families are now faced with the question of what to do with the cremated remains. Families who have opted for a simple, low-cost cremation do not want to spend excessively on interment options, and many families want to do something special and memorable as a final act of laying a loved one to rest.

Too often today we hear folks say "I just want a simple cremation and then my ashes scattered". In terms of 'ashes to ashes and dust to dust', the notion of returning someone's mortal remains into the eco-system seems a very natural and authentic way to return someone to the base elements and atoms that were the beginning of life.
Burial at Sea: An alternative ash scattering option for ex-pats, divers, ocean-lovers, and cruise-lovers
Conducting an ash scattering ceremony offshore in the Caribbean Sea appeals to many people who have visited the Riviera Maya and fell in love with the turquoise waters and white sands. Ex-pats who have chosen to live in Mexico often wish to remain here when they pass. Those who have frequently visited and enjoyed the amazing waters and vibrant aquatic life in the Caribbean Sea feel that to be scattered into these warm tropical waters is the perfect final resting place. I have even known people who leave instructions for their family to cremate them and take a vacation to go and scatter the ashes. Why spend thousands of dollars on a short funeral service, when the whole family can benefit from a life celebration cruise for the same money?
Can you scatter cremated remains in the Gulf of Mexico?
Yes, however, there are certain laws that govern how you may disperse cremated remains offshore. If you plan to scatter in the Gulf of Mexico, the Environmental Protection Agency (EPA) has rules that human remains must be dispersed at least 3 nautical miles to sea and a form notifying the agency of a sea burial must be submitted to the relevant EPA region within 30 days of the scattering.
If you opt to scatter the remains offshore from Mexico no such rules appear to apply.
How can I transport cremated remains to Mexico?
You can transport cremated remains to Mexico in your hand luggage. You just need to ensure that the cremated remains travel in an x-ray friendly container as they will have to pass through the security x-ray and be inspected by the TSA. A cardboard, plastic or wooden container is suitable. You should also carry a copy of the death certificate and the cremation permit.
Can I scatter cremated remains from a cruise ship?
There seem to be mixed reports about scattering ashes from the cruise liners. Feedback from certain cruise lines suggests that they do not encourage the act of scattering ashes from the vessel whilst at sea. However, both NCL and Carnival have confirmed that they will permit an ash scattering ceremony on-board with certain guidelines.
The guest must contact the Guest Services Desk once on-board the ship.
The Guest Services Staff and the Environmental & Occupational Safety Officer (EOSO) will coordinate the burial at sea.
Depending on the ship's itinerary, a time and location will be coordinated based on the guest's suggestions and operation requirements.
The ceremony must be performed at least 12 nautical miles from land and any restricted areas noted on the nautical charts and notices to mariners.
Once the date and time are finalized, Guest Services will notify the family of the scheduled ceremony.
The family will be escorted to the area by the EOSO and a Security Officer.
The family will be given privacy to disperse the ashes and the area will be secured in order to ensure privacy without disrupting other guest activities.
Biodegradable containers and flowers may be dispersed but not any plastic materials such as plastic ribbons, plastic flowers, plastic urns, balloons, etc.
The main thing to consider when scattering ashes from the side of a ship is how the ashes will disperse, and avoiding any blow-back action from the wind, where you could end up covered in the ashes or other passengers could. This is where using a biodegradable cremation container that can be cast into the sea and then will slowly sink and dissolve is a great idea.
Are there boat tours to scatter cremated remains in Cozumel and the Riviera Maya?
Yes, you can choose to take a private boat tour where you can conduct your own ash scattering ceremony. A small private charter can be a special and intimate way to host your ash scattering ceremony and these charters are available at very reasonable rates in Cozumel, Mexico. The same guidelines should be observed with regards to performing a scattering ceremony where the ashes do not get blown too much by the Caribbean breezes. Taking the cremated remains in a biodegradable container can facilitate this.
In many cases, the boat captain will take photographs of the scattering for you, and even make a DVD for a small fee.
How much does it cost to arrange an ash scattering ceremony at sea?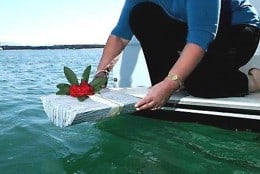 This very much depends upon how you arrange it.  Scattering from a cruise ship can be done without any cost, so long as the staff can accommodate your request.
If you opt to take a private boat tour to scatter the remains, this will depend on the fees for the charter. It is possible to arrange a 2-hour private tour on a 44-foot catamaran, including refreshments and snorkel tour (if desired) for $50.00 per adult and $40 per child. [Minimum of 4 people required $200.00] The boat can accommodate up to 28 people for a larger group, and a catamaran to hold up to 70 people can also be arranged.
This tour is generally arranged as a Sunset tour so that the ash scattering ceremony can be performed as the sun sets over the Caribbean Sea. September through to March this tour departs at 4:30 pm and April through to October it departs at 5:30 pm.
If you would like to make a reservation for a Burial at Sea Sunset Charter, call us on (646) 374-4212 or fill in the form on our Contact page.